Digital Signage Company Dubai , Abu Dhabi - UAE
"Setting new benchmark in Digital Signage"
Apart from Fixed LED display, umh's current portfolio of products range from indoor multi-programmable LED poster displays , Transparent Screens, Flexible concave & convex screens , Soft Mesh Led curtains and freestanding outdoor displays. With a focus on simplicity of adoption through ease of installation, maintenance and management, umh offer customers the ability to easily activate their content and boost the power on screen. Universal Media House is a leading digital signage company in Dubai, Abu Dhabi, UAE. We offer premium quality digital signage in Dubai which improve overall audience experience and support your business objectives.
The rise of digital signage, the prototype has shifted from promotions to bespoke and immersive experiences for clientele. It focuses on engaging patrons after grabbing their attention. Increasingly, organizations are leveraging the hottest developments in the digital signage, LED Display industry for engaging, informing, and entertaining consumers.

We at Universal Media House Digital Signage Company in Dubai understands the need of your brand and executes any complex projects with ease.
Some key trends we offer with our products in the domain of Digital Signage are: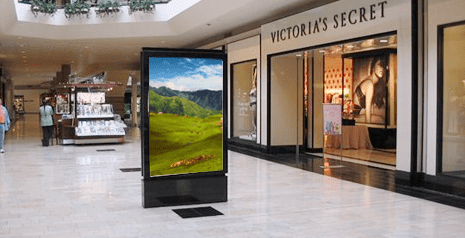 Real-Time Content Streaming
Integrating rich media and synchronized content streaming creates a vibrant digital experience. Digital signage technology functions as a presentation platform perfectly suited to sharing immersive content on embedded-graphic devices using IP. From live video streaming to audio content, there are several potentials to be explored in this domain. The most modern media players come equipped with the capability of functioning as IP streaming servers that connect 4K (UHD) content directly to presentation screens or video walls. This sort of display that easily scales larger than life is useful for training, instructing, entertaining, and promoting products and services in a fun, immersive manner.
---
Multiple Commercial Applications
It finds its use in multiple business applications. The best and outsized systems prove to be much efficient that is used to display the information on cost, the latest business updates, and more. The digital solution provides a dynamic and targeted approach to consumers. With evolution, the trend shows that most of the business associations are now started to embrace digital signage as a way to develop product branding as opposed to printed media.
Enhanced Mixed-Media Experiences
Digital Signage DubaiDigital advertisers and marketers and often need ways to enhance content relevance, and employing a content principle called "sticky" is a tried and true technique that meets this need. Considering this for digital signage, media players play an important role by enabling widgets that source valuable information that is often location specific, or event specific, or whatever is relevant at a given place and time.
UMH Offers following Digital Signage